Welcome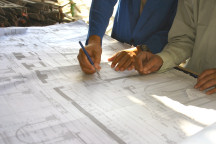 The ultimate responsibility of the Board is to safeguard the health, safety and welfare of the citizens of North Dakota by ensuring that those individuals licensed to provide architectural and landscape architectural services in the state are duly qualified.
The Board is a member of the National Council of Architectural Registration Boards (a national credentialing organization) and we are a member of the NCARB Central States Conference, Region 5, which is comprised of the states of Kansas, Montana, Nebraska, North Dakota, Oklahoma, South Dakota, and Wyoming.
License Renewal
All licenses to practice in North Dakota (issued prior to May 1st) expired on June 30, 2015. Several renewal notices were emailed to the email address we have on file for you. In addition, postcards and certified letters were sent to the mailing address we have on file for you. If you failed to renew and would like to request reinstatement of your license, you may do so within 1 year by completing the following two documents and mailing them to the Board along with a check for $225.
If it's been more than 1 year since your license has lapsed, you will need to complete the disclaimer above, have your NCARB Council Record re-submitted to us, complete the Uniform Application, and submit an application fee of $150. Upon approval, you would receive a new license number.

Feel free to contact our office at 701-223-3540 or e-mail stacy@bis.midco.net if you have any questions.

Recent Enforcement Actions
| Date | Name | Action | Reason |
| --- | --- | --- | --- |
| 5/23/16 | Lori Guthridge | Deny license for 6 month period | Represented onself in the state with out a license and failed to notify the board in writing as outlined in statute 43-03-01.5, 43-03-03.6 and rule 8-02-02-06.9 |
| 5/23/16 | Craig Rhodes | Deny license for 6 month period | Represented onself in the state with out a license and failed to notify the board in writing as outlined in statute 43-03-01.5, 43-03-03.6 and rule 8-02-02-06.9 |