Welcome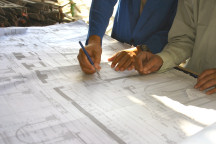 The ultimate responsibility of the Board is to safeguard the health, safety and welfare of the citizens of North Dakota by ensuring that those individuals licensed to provide architectural and landscape architectural services in the state are duly qualified.
The Board is a member of the National Council of Architectural Registration Boards (a national credentialing organization) and we are a member of the NCARB Central States Conference, Region 5, which is comprised of the states of Kansas, Montana, Nebraska, North Dakota, Oklahoma, South Dakota, and Wyoming.
License Renewal
All licenses to practice in North Dakota (issued prior to May 1st) will expire on June 30, 2015. A renewal notice was be EMAILED to the email address we have on file for you. You may also renew your license through this websiteby clicking on the following link:
Click here to renew my North Dakota Architect or Landscape Architect License
Any licenses not renewed prior to July 1st will be considered lapsed. If you do not receive an email, you are still responsible for renewing through the board website. Please be advised, you are responsible to renew your own license. An agent or administrator acting on your behalf is not authorized to renew your license for you.
Because of the strong pro-business and built environment in North Dakota, we are able, for another renewal cycle, to reduce the renewal fee to $125.00. Once you renew, your license will be good through June 30th 2017. We thank you for being part of the community of design professionals.
Feel free to contact our office at 701-223-3540 or e-mail stacy@bis.midco.net if you have any questions.
~ The North Dakota State Board of Architecture and Landscape Architecture